GHX Hospitality IPTV integration
New integration with GHX IPTV system to allow the integration with hundred of PMS systems.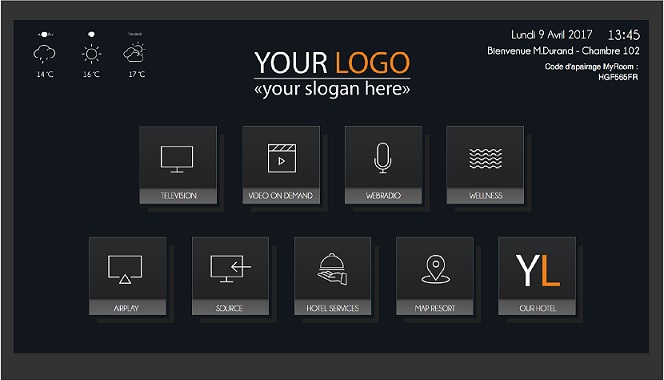 GHX, or Guest Hospitality Xperience, is an intelligent multi-media platform for hotels, enabling easy and simple exploitation of Live TV, VOD, multi-media, room automation and digital signage with a consistent experience for all type of screens (TV, monitor, phone, smartphone, tablet …).
An entirely customizable solution, adaptable to the house styles of the different hotels in a resort. Several interfaces are possible according to various parameters such as age (children's interface), group seminars (business interface), VIP clients.
A panel of functionalities to choose according to the hotel's needs: VOD, TV, Radio, Room Automation, BYOD(…).
GHX is a scalable platform which enables every hotel to build in a simple way its ideal solution by choosing the functionalities they want to offer to their guests. The solution remains dynamic and scalable and functionalities can be added or withdrawn at any time.
This integration with char pmslink allows GHX IPTV system the possibility of connecting with hundred of PMS systems already integrated by char.
For more information about the GHX system, contact: https://www.easyone.mc/contact-us/ 
If you have any doubt, please contact us:
sales@char.es

easyOne was created by tech geeks whose ambition was to facilitate the adoption of technology by a greater number.
They brought in simplified multimedia interfaces that can be customized and easily managed.
easyOne major asset lies in their ability to develop each interface upon the user's needs. Each project is different and enables the client to own his personal multimedia environment.