INNOVAPHONE PBX
char pmslink integration with innovaphone systems
PMS INTEGRATION
Connecting Innovaphone PBX systems in Hotel environments
char pmslink acts as a middleware between the innovaphone system installed in the Hotel with any external system / equipment, such as Property Management Systems (PMS), Hotspot systems, IPTV systems, etc.
Our large number of PMS and/or systems supported will help you in the integration of the Voice communication system covering all Hotel needs.
char is listed as certified Technology Partner by innovaphone
pmslink acts as a middleware to integrate all Hotel systems, centralizing the information in an unique solution.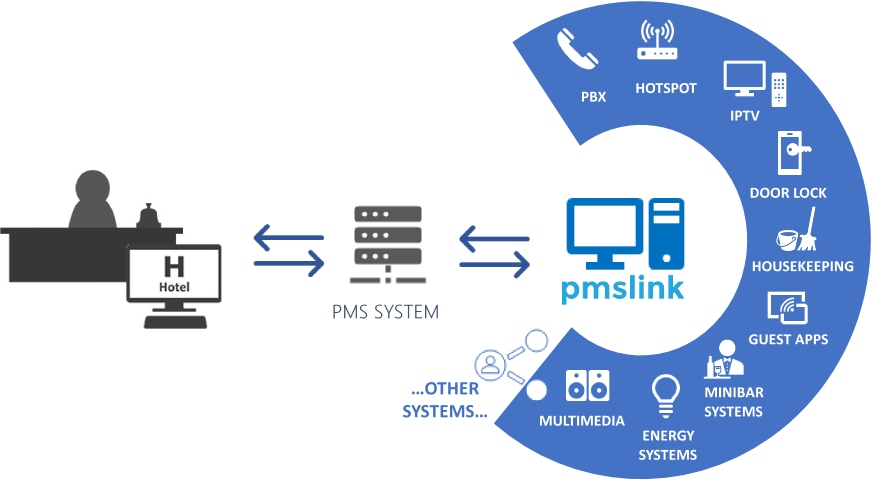 How pmslink does it work?
Lets see a check-in and a call made by the Guest as an example…
1) Guest arrives at the Hotel and starts the Check-In process. Guest information is introduced in the Property Management Hotel System (PMS) by the Receptionist.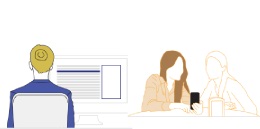 3) pmslink receives the information from the PMS and then sends commands to the PBX in order to allow calls from that room number, set reminders, …

2) Once the Check-In is done in the PMS system, the information is sent to char pmslink through the proper interface between both systems.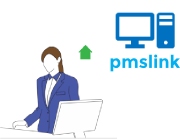 4) In the case a phone call is made by the guest, the PBX sends that information to pmslink and pmslink sends the information to the PMS for Call Accounting purposes.

Events managed between the PMS and innovaphone
Communication FROM the PMS system TO innovaphone system
CHECK IN
Allows to make outgoing calls
CHECK OUT
Outgoing calls are not allowed
ROOM MOVE
Move guest information data to the new room
ROOM UPDATE
Updates any new guest information entered
GUEST NAME
Guest's name will appear on phone's display at the Front Desk
SET REMINDERS
Enable Wake Up calls to guest rooms
Communication FROM innovaphone system TO the PMS system
CALL ACCOUNTING
Send charged guest calls to the PMS
ROOM STATUS
Send Room Status codes to PMS (clean, dirty, …) dialed from guest's room phone
NOTIFICATIONS
Send Reminders / Wake Up notifications (Cancelled, Activated, Answered, …)
FIRST STEPS TO WORK WITH US
Do you want to know how we work? See below how to proceed...
New sales opportunity: Which data I need to provide to char for a quotation?
Congratulations! If you are here it is because you have a new opportunity and need to quote our solution to integrate the innovaphone system with the Hotel PMS.
The information below must be sent to char (sales@char.es) to be verified and guarantee the success of the installation:
Country / City where the application will be installed:
Hotel Name:
Rooms:
Dealer (Company name):
Manager / Technician (Name, Tel, mail, …) to schedule the installation:
PBX installed (model):
PMS:
It is very important to detail the PMS system installed in the Hotel to verify that it is already supported by char.
In case if not, please provide a contact (name/mail) of the PMS company to give us the opportunity to contact with them and evaluate the possibility to make the integration with this new system. There is not any extra cost from our side.
The license is based on the rooms managed by char pmslink, so it is important to give us the exact number of Hotel rooms.
Once this information is received, we will send you an e-mail with the quotation and our specifications to meet the basic requirements.
You can also be able to send your company details through our Registration Form in order to allow us the sending of quotes and Proforma Invoices.
Minimun Requirements
Because char pmslink is a middleware between the PBX system and the PMS system, the first and more important requirement will be to have the PMS INTERFACE activated in the Hotel PMS system to integrate with char pmslink.
For example, in case of Oracle Opera PMS is installed in the hotel, you'll need to ask the Hotel to have the following interface activated in Opera:
Name: "char – hmobile connect PMS IF" by cHar Desarrollo de Sistemas, S.L (name recently updated. Before its name was: TMS I/F – CHAR CONEXION PMS)
Part no: 5001-258
Type : TMS/IF
FKT Logo: CNX
For the rest of PMS systems, you'll need to verify that the interface with 3rd Party applications is activated in order to exchange information (Check In, Check Out, Room Status, Reminders, …) bewtween the PMS and char pmslink.
Minimum Requirements
Standard PC or Server, using any updated and current Windows O.S. (Windows 10 / 2016 Server / 2019 Server, …), not dedicated, 10 GB free disk space, 2 GHz Intel Dual Core or higher, 4 GB RAM.
Internet access will be needed in order to enable char's technical department to carry out maintenance, installation and the system start-up remotely.
It is also needed for license activation and application download.
We use the latest version of Teamviewer to make the remote connection, where you can use the following link to provide us with the Teamviewer's ID:
http://www.chardesarrollodesistemas.com/download/general/support/cHarQS_es.exe
Call Prices: Depending the country where the application will be installed, exists the possibility that you have to send us information about the call prices of that country in order to create a new Operator for Call Accounting purposes.
PMS interface must be activated.
It is mandatory to have technical support from the PBX, PMS or any external system to be integrated with char, in order to make adjustments, data verification, driver setup, etc. in case of necessity.
In order to integrate systems, a cooperation of all parts is needed (PBX support, PMS support, End user support, IT Manager support, etc.)
In case a virtual machine will be installed instead a physical equipment, the minimum requirements (please contact us before) are:
CPU CORE: 1
RAM: 1 GB
DISK SPACE: 10GB
O.S.: Windows 10 or above (any current version of Windows)
License Purchase
We offer two ways to purchase char pmslink software:
License Purchase mode
SaaS mode
LICENSE PURCHASE MODE
It means that the buyer will be the owner of the license. You are able to resell the license to the End User in case of Dealers.
The license is based on the total amount of rooms to be managed by the application and the systems to be integrated.
By the default, the license supports 2 devices, commonly used to integrate the PMS system and the PBX system (98% of cases).
Of course, these 2 devices may be used to integrate the PMS system to a Hotspot system (instead a PBX system). You choose which systems will be integrated.
In case you need to add any other external system (Hotspot, IPTV, …) you must add an additional device in charpmslink license (please contact us).
The licensing model is for sections of 100 extensions with 2 devices licensed, so we offer charpmslink:
Up to 100 extensions (Hotels for 1 to 100 rooms)
Up to 200 extensions (Hotels for 101 to 200 rooms)
Up to 300 extensions (Hotels for 201 to 300 rooms)
… and so on… Not limit with the number of extensions (rooms) or devices to be managed.
All new licenses include:
License
Remote installation / Systems start up
First year of Remote Technical Support
For the second year, we recommend to renew the Remote Technical Support to have char's technical support but it is optional. If it is not purchased, the license will continue working as it was working before.
For prices, please contact us: sales@char.es
SaaS MODE
This is the Software as a Service mode. That means that you pay an annual fee for the using of the license, including:
License use Rights
Remote Technical Support
Using this method, the Hotel will not invest an initial amount of money to have char pmslink.
The Hotel may unsubscribe this service in case it is not needed any more (must be notified in advance).
The annual fee price has been studied to be very competitive and a good option to have in mind.
It is important to mention that exists an unique payment for the initial remote installation (€200) and system start up.
This payment is made the first year and it will not be charged in the following annual fees.
To know prices about the SaaS service, please send us the information indicated in the first item ("New sales opportunity: Which data I need to provide to char for a quotation?) and we will send you the quote.
Payment Methods
Regardless of the purchase method (license or SaaS) the payment must be always done by advance.
We accept Bank Transfers and payments through PayPal.
You have to take into account that char must receive the exact amount of EUROS indicated in the quotation.
Any kind of commision, bank transfers costs, paypal commisions, taxes, etc must be taken into account before to make the payment.
We always send a Proforma Invoice to make the payment where you will have all our bank details.
We only accept payments in EUROS currency.
Invoices will be sent by char through the company CHAR DESARROLLO DE SISTEMAS, S.L. located in Spain and the amount will be reflected in EUROS in all cases, waiting for its payment in the same currency and for the exact amount indicated on the invoices. Any kind of commission, bank costs or other differences must be assumed by the buyer.
In addition to this, in the case that by legislation of the country of destination, any type of tax retention must be made on the invoice, such retention must be justified by an official document and valid for the Spanish Tax Agency.
BENEFITS
Integrates several systems with the PMS installed in the Hotel (Hotspot system, IPTV system, …).
Acts as service in the PC where it is installed (Windows O.S.).
Allows the integration with any of the hundred PMS already supported by char.
pmslink is able to be offered by license or SaaS (Software as a Service) mode.
If the PMS system that you are looking for is not listed, we are always open to make new integrations with any PMS system.
PMSLINK RELATED DOCUMENTATION
pmslink Presentation
Download pmslink presentation for Sangoma systems
PMS Supported
Download the list of PMS supported by char pmslink
Equipment & Systems supported
Download the list of Equipment and Hotel Systems supported by char pmslink
INNOVAPHONE DOCUMENTATION & CASES STUDIES
In this section you can find relevant information about Innovaphone documentation that may help you to integrate pmslink with innovaphone systems.
Wiki documentation on innovaphone webpage about the integration with pmslink