New integration with Arantia TV system to allow the integration with hundred of PMS systems.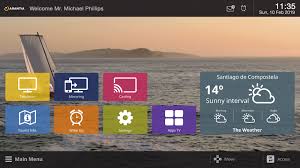 The IPTV system of the Televes Group is called Arantia TV. 
A single Interactive Television and IPTV platform that groups together all the necessary services to respond to the needs of its clients in all types of projects, including hotels, hospitals, operators, companies and residential buildings, also providing new tools to improve the operations of deal.
It allows end users to have access to configured services such as IP television services, with personalized channel lists, BYOD services (mirroring, casting), messaging, general information (weather, tourist info …), hotel promotional information (special offers, events, hotel services), etc. through the television in your room.
This integration with char allows Arantia TV the possibility of connecting with hundred of PMS systems already integrated by char.
For more information about the Arantia TV system, contact: https://www.televes.com/es/hospitality.html 
If you have any doubt, please contact us:
sales@char.es

We have sought inspiration from viewers to create a new interactive digital TV platform. This is a perfect combination of exclusive design and state-of-the-art technology, giving the TV viewer a new and meaningful experience.
You will relax while you are informed and entertained. Arantia TV will transport you to a major digital movie theater where you will laugh, cry and experience a whole new world of sensations.
Arantia TV includes all the services needed to respond to its customers' requirements within a simple IPTV platform in all kinds of projects, including hotels, hospitals, operators, companies and residential buildings, providing additional new tools to enhance business operations.
ARANTIA offers a new world of possibilities for operators, corporations and building projects , as well as all the elements necessary to deploy IPTV, VOD and all kind of interactive services.